Helsinki's Chinese New Year festival crowned by a dance procession on Keskuskatu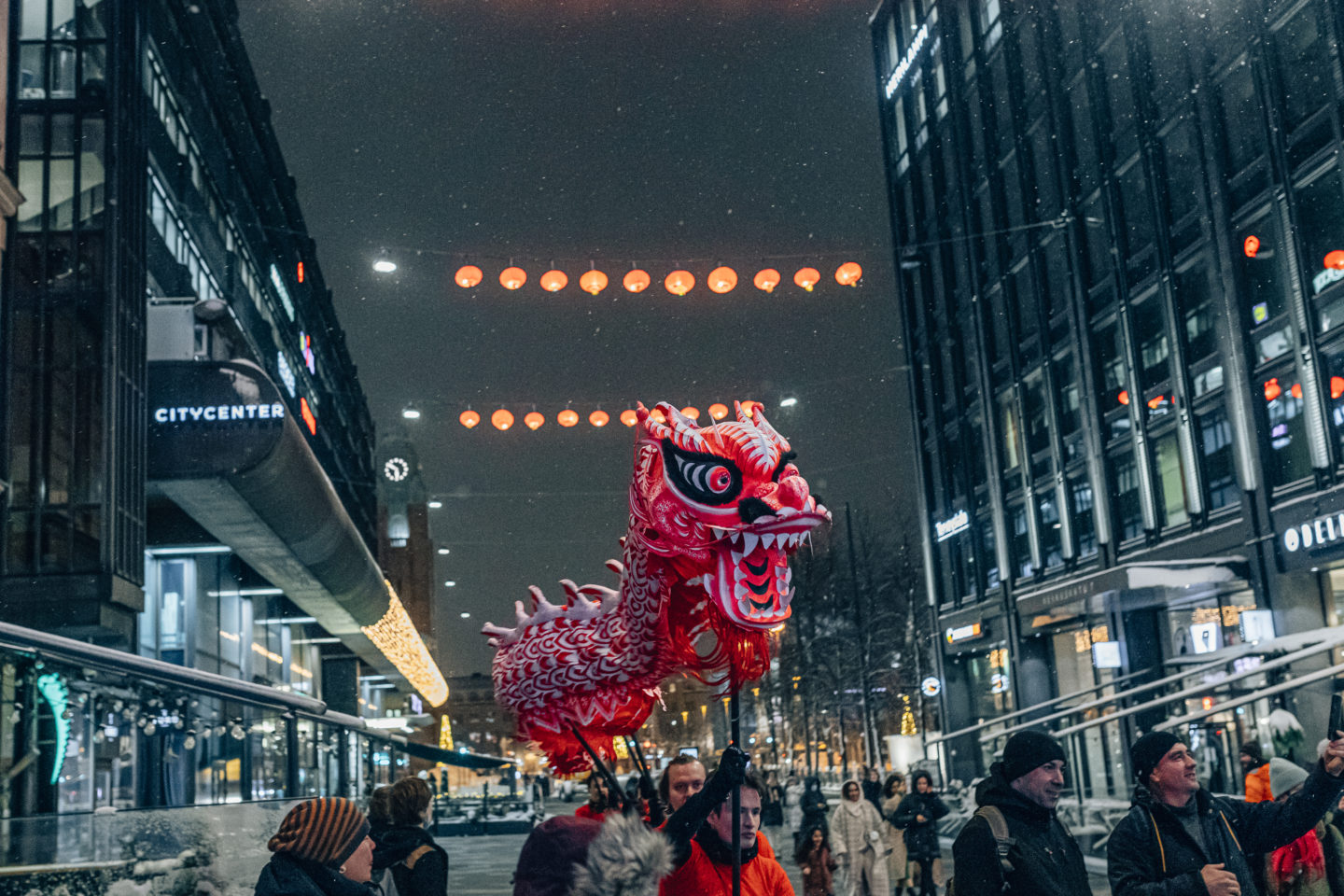 Chinese New Year will be celebrated this Saturday, 21 January in Helsinki city centre and cultural centres across the city. The year of the Tiger turns into the year of the Rabbit with ice sculpting demonstrations, dragon and lion dances as well as an impressive dance procession. The ice sculptures on Keskuskatu and in the yards of the cultural centres will continue to delight people for a longer period.
Helsinki's Chinese New Year brings a bit of joy to a dark time of the year, inviting citizens to enjoy the traditional programme of the day. The festival event takes place on Saturday, 21 January on Keskuskatu, between Kaivokatu and Aleksanterinkatu, with ice sculpting demonstrations from 10 a.m. until 3 p.m. and dragon and lion dances from 4 p.m. until 7:30 p.m. In Helsinki, the turn of the Chinese year has traditionally been celebrated at 6 p.m. – this year, it is preceded by a joint performance by the dragon and lion dance groups at 5:55 p.m. The day's programme now also includes a dance procession inside the shopping centre Citycenter at 7 p.m.
Ice sculpting also takes place in the yards of Helsinki's cultural centres (Caisa in Kallio, Kanneltalo in Kannelmäki, Maunula House in Maunula, Stoa in Itäkeskus and Vuotalo in Vuosaari) on Saturday, 21 January and already on Friday, 20 January from 10 a.m. to 3 p.m. The cultural centres will also organise their own special programme in honour of the day. Weather permitting, the rabbit-themed ice sculptures on Keskuskatu and in the yards of the cultural centres will continue to delight people for longer, possible until Wednesday, 25 January.
The New Year festival is the most important event of the year in China. Festival atmosphere from Beijing, China – musical performances, dance, kung fu as well as an exploration into the city's sights and New Year festival traditions – will be distributed via Helsinki channel and a video recording published on the event website.
In Chinese zodiac tradition, the rabbit is a symbol for hope and luck. The calm nature of the rabbit will bring both internal and external peace in the year of the rabbit. On the other hand, risk taking may also be worthwhile this year due to the lucky nature of the rabbit. The year of the rabbit is a year of hope, luck and success.
Helsinki's Chinese New Year event is hosted by the cities of Helsinki and Beijing, and it has been celebrated since 2007. The event is produced by Helsinki Events Foundation together with Cultural Centre Caisa and the Finland–China Society. New Year festival atmosphere from Beijing online via Helsinki channel and kiinalainenuusivuosi.fi/en on Saturday 21 January 5 p.m.–5:40 p.m.